YDF Valves has four assembly plant, two foundry, three operation and sales service centers in China, and additional overseas branches in the U.S.A., Brazil, Singapore, South Korea, Malaysia and Russia. It relies on the global agent and worldwide after-sales service outlets, such as UAE,Spain,Thailand,Australia,South Africa,Canada and so on. Customer always comes first. YDF Valves together with its energetic and passionate global team, will take on challenges in the future.
Proper sizing, selection, and maintenance of valves and actuators, is crucial to process control loop operation. As an added value to our clients, YDF valve meet with customers to provide training and guidance on important issues such as valve technology, proper maintenance, operation, preservation, and handling. In addition, we regularly organize technical & quality training to enhance the exchange between YDF and our clients. Our certified instructors will share their knowledge and experience of valves and actuators through lecture and hands on project site.
YDF Valves has an international reputation for the quality of training it provides customers, installers and maintainers of fluid control systems. Our aim is to ensure that you achieve the maximum benefit both efficiently and safely.
YDF Valves own professional after-sale service team around world for valve maintenance & consultation, well equipped and high positioned. Good teamwork guarantee customers timely, superior and professional services, which include:
·Providing professional 24-hour hotline and online service ,such as technical exchanges, solutions and support
·Preparation of spare parts for customer
·Professional customer site service
·Inspection of goods, on-site commissioning and guidance at the initial stage of operation
·Customized maintenance proposals
·Systematically analysing potential causes and Problem
·Regular valve maintenance and inspection service
·Providing technical guidance and training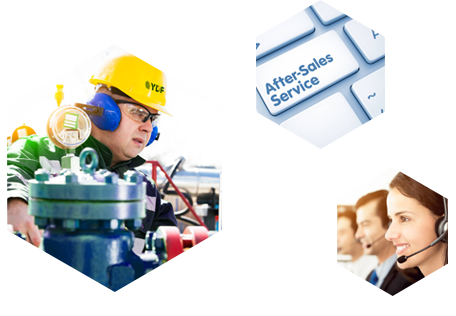 When it comes to the design and evaluation of instrumentation and control systems installed for safety purposes, no easy answers exist. A methodical, team-oriented life-cycle approach is required. YDF Valves provide systematic safety guidelines for valve selection,storage ,installation,commissioning, operations, maintenance and replacement.
Installation and commissioning. This step ensures the system is installed per the design and performs per the safety requirements specification. Before a system is shipped from the factory, it must be thoroughly tested for proper operation. If any changes are required, they should be made at the factory, not at the installation site.
Operations and maintenance. Every system requires periodic maintenance to function properly. Not all faults are self-revealing, so every safety system must be periodically tested to make sure it will respond properly to an actual demand. The frequency of inspection and testing should have been determined earlier in the life cycle. All testing must be documented.